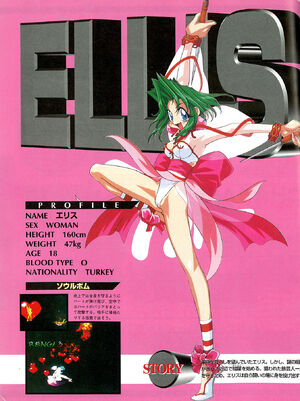 Name: Ellis Cemil
Weapon: Twin Dirks
Nationality: Turkish
Birthday: June 5th, 1980
Age: 16 (1996), 17 (1997), 19 (1999)
Signs: Gemini-Monkey
Sex: Female
Height: 160cm
Weight: 47kg
Blood Type: O
Occupation: World famous acrobat and dancer
Likes: The happiness and joy of people, especially children
Dislikes: Thunder and stormy weather
Favorite Food: Anything sweet, especially lokum and mochi
Hobbies:
Skilled at: Being able to peel a whole fruit of any sort without bruising or misshaping it, scaling anything if she wanted to
Most Important: Her necklace that belongs to her true family
Family:
Gaia (long lost father)
Kaede (long lost mother, deceased, assassinated)
Long lost infant brother (deceased)
Step Father
Step Mother
Troupe (countless children she cares for like brothers and sisters)
Moveset List
Edit
Special Arts
Edit
Opportunity Arts
Edit
Soul Bomb Arts
Edit
Ultimate Revenge Attack
Edit
Ad blocker interference detected!
Wikia is a free-to-use site that makes money from advertising. We have a modified experience for viewers using ad blockers

Wikia is not accessible if you've made further modifications. Remove the custom ad blocker rule(s) and the page will load as expected.