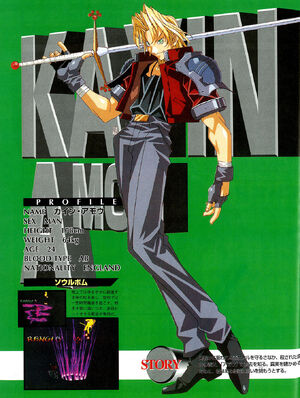 Name: Kayin Amoh
Weapon: Caliburn, otherwise known as the famed sword Excalibur
Nationality: UK/English- Scottish
Sex: Male
Height: 178cm
Weight: 64kg
Age: 20 (1996), 21 (1997), 23 (1999)
Blood Type: AB
Occupation: Independent Singer and guitarist, undercover bounty hunter and hitman
Likes: Automobiles, anything that has to do with vehicles of any kind
Dislikes: Meat, especially lamb
Favorite Food: Vegetarian dishes, especially with onions
Hobbies: Reading, mechanics and shop, attending automobile shows
Skilled at: Guitar, fixing vehicles
Most Important: The times when he can meditate and forget about the world in the arms of nature, Naru, his foster daughter, his family's heirloom, Caliburn
Family:
Father (deceased, assassinated)
Mother (deceased, childbirth)
Amoh (adoptive father, deceased)
Naru (foster daughter)
Moveset List
Edit
Opportunity Arts
Edit
Soul Bomb Arts
Edit
Ultimate Revenge Attack
Edit
Ad blocker interference detected!
Wikia is a free-to-use site that makes money from advertising. We have a modified experience for viewers using ad blockers

Wikia is not accessible if you've made further modifications. Remove the custom ad blocker rule(s) and the page will load as expected.