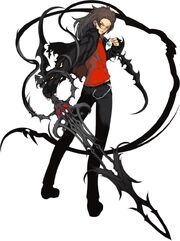 Name: Mamoru Fujimi
Weapon: No Data
Nationality: No Data
Sex: Male
Height: 176cm
Weight: No Data
Age: No Data
Blood Type: No Data
Occupation: No Data
Family:
No Data
Appears in:
Toshinden(Wii)
Mamoru Fujimi is a character in the Toshinden Wii series Warbudokai.
Character History
Edit
Mamoru is a high ranking member of an underground resistance group by the name of "Island", who are fighting a war to regain back his rightful family sovereignty over his country once more.
Ad blocker interference detected!
Wikia is a free-to-use site that makes money from advertising. We have a modified experience for viewers using ad blockers

Wikia is not accessible if you've made further modifications. Remove the custom ad blocker rule(s) and the page will load as expected.